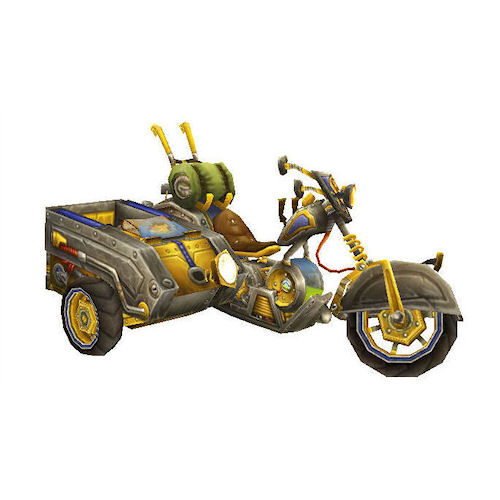 I just wanted to alert you to something that happened recently when I was comparison shopping for a Mekgineer's Chopper:
Kologarn: HELLO! WELCOME TO YOGG'S HONDA. MY NAME IS KOLOGARN AND I CAN HELP YOU OUT IF YOU'D LIKE TO TEST DRIVE ONE OF THESE BEAUTIES TODAY.
Crawford: I know you from somewhere, right?
Kologarn: A LOT OF PEOPLE THINK THAT. I HAVE ONE OF THOSE FACES.
Crawford: Not really. You have very distinctive eyes.
Kologarn: MY EYES ARE JUST REGULAR EYES. THEY DON'T SHOOT LASERS OR ANYTHING.
Crawford: We've definitely met. Weren't you a raid boss?
Kologarn: THE CUSTOMER IS ALWAYS THE BOSS AT YOGG'S HONDA, WHERE THE DISCOUNTS CRIT FOR OVER 9000!
Crawford: No, I definitely know you. You used to be great. What are you doing working in this place?
Kologarn: I BLEW OUT MY ROTATOR CUFF.
Crawford: Yeah, I guess having your arms explode repeatedly can do that to you.
Kologarn: LOOK, DUDE, I HAVE CHILD SUPPORT PAYMENTS TO MAKE. I'M JUST TRYING TO HANG ONTO WHATEVER SHREDS OF DIGNITY I HAVE LEFT.
Crawford: So your raid-bossing days are over, I guess.
Kologarn: I MEAN, I STILL DO SOMETIMES, BUT IT'S NOT ENOUGH TO MAKE ENDS MEET. PEOPLE STILL DO THEIR DRAKE RUNS.
Crawford: Were you even an achievement for that?
Kologarn: YES.
Crawford: I'm pretty sure you weren't. I know you didn't have a hard mode.
Kologarn: MY REGULAR MODE WAS A HARD MODE. I WAS HARD ALL THE TIME.
Crawford: Remember all those forum threads about people being stuck for weeks on Kologarn?
Kologarn: ...
Crawford: Yeah. Me neither.
Kologarn: I HAD AN ACHIEVEMENT. IT WAS CALLED DISARMED.
Crawford: Oh yeah. I think I got that one by accident.
Kologarn: IT WAS AN EPIC CHALLENGE. THAT'S HOW I BLEW OUT MY ROTATOR CUFF.
Crawford: Only a flesh wound, right?
Kologarn: NO, IT'S PRETTY SERIOUS. I CAN'T RAISE MY ARMS HIGH ENOUGH TO BRUSH MY OWN HAIR ANYMORE.
Crawford: Isn't your whole head made of rock?
Kologarn: SHUT UP. I WILL SQUEEZE THE LIFE OUT OF YOU.
Crawford: With a torn rotator cuff? Not likely.
Kologarn: LOOK, DO YOU WANT TO TEST DRIVE A HONDA OR WHAT?
Crawford: Nah, I am just killing time. I am going to buy from Honest Marrowgar down at Bonestorm Motors. See you later.
Kologarn: WAIT.
Crawford: I've got somewhere to be.
Kologarn: NONE SHALL PASS.
Crawford: What?
Kologarn: UH, I MEAN, WE'LL BEAT ANY ADVERTISED PRICE.
Crawford: Whatevs, Dog. I'll keep it in mind.
Kologarn: (sighs) YOU FAIL.